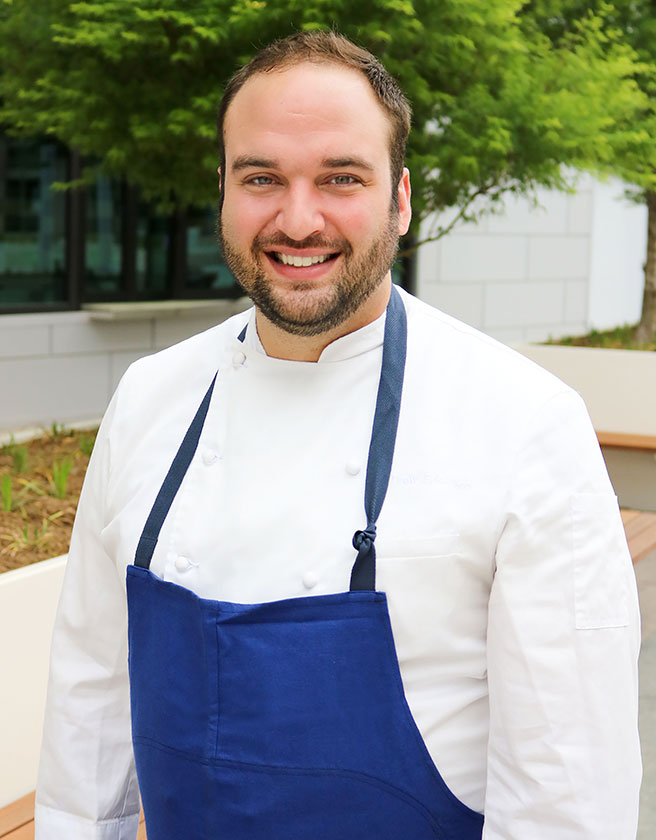 Drew Erickson
Executive Chef, CAMP
Director of Culinary Development, Table 301
With an innate love for cooking and meeting new people, Drew Erickson realized at a young age that the restaurant profession was for him. Today, as Executive Chef of CAMP and Director of Culinary Development for Table 301 Restaurant Group, Drew is bringing his passion for hospitality and expertise to Greenville.
A Greenville, SC native, Drew graduated from the Culinary Institute of the Carolinas at Greenville Technical College. He started his career at Soby's New South Cuisine at the age of 17 where he was mentored by Soby's executive chef, Shaun Garcia. Chef Shaun taught him everything he knew — from navigating a restaurant kitchen to the art of cooking and treating every guest to the highest standard of hospitality. It was during this time that Chef Shaun gifted him with a cookbook titled The French Laundry, which planted a seed and offered a glimpse into Chef Thomas Keller's three-star Michelin restaurant in Napa Valley. Little did Drew know how much that gift would later impact his career.
After learning the ropes from Soby's Chef Shaun Garcia, Chef Drew helped to open Passerelle Bistro, another Table 301 restaurant located in Falls Park. He increased his culinary expertise and knowledge working as a sous chef to Chef Teryi Youngblood — until a unique opportunity was offered to him in 2016 – "to stage", or apprentice at The French Laundry. The experience took him on a four-year venture as a Chef de Partie where he cooked with an amazing team of talented professionals under Thomas Keller's leadership.
After four years at The French Laundry, Drew's career aspirations brought him back to Greenville with the intention of making a true and meaningful impact on the culinary scene here with mentor Carl Sobocinski.
Drew says that when he is asked, "What is your favorite thing to cook?" He says he just loves to cook, so it's really whatever ingredient he's working with in the kitchen that day. "I respect cuisine and enjoy the creative process of cooking, so I just like to make delicious dishes that are elevated by technique, ingredient, and skill."
When he's not in the kitchen, Drew enjoys being with his friends, relaxing outside on a hike in the woods, or spending the day on a boat at the lake house.