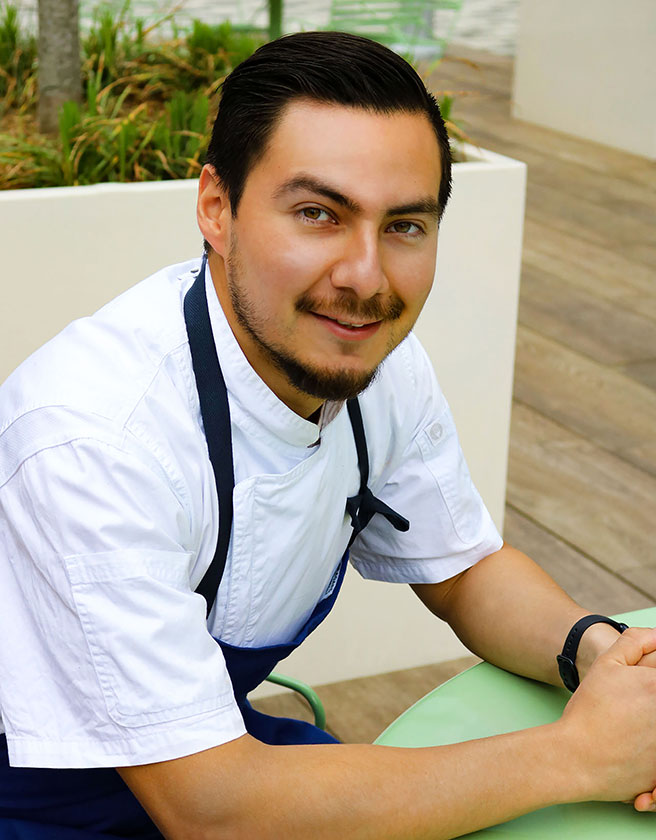 Diego Campos
Executive Sous Chef, CAMP
Diego Campos Vargas, a creative force behind the menus at The Lazy Goat, Passerelle Bistro, and Soby's for many years, is excited to bring his extensive culinary experience to CAMP. Besides working side by side with Executive Chef Drew Erickson, Diego manages the entire kitchen, including overseeing the staff and assuring that every dish presented to guests is cooked to perfection.
Born in California and raised in Puebla, Mexico, Diego and his family made their way to Greenville when he was 11 years old.  The original plan was to stay 3 years to master the language and then return to Mexico, but his family loved the area and decided to stay. He graduated from Wade Hampton High School and initially sought a degree in architecture from Greenville Technical College.  However, his interest in "all things culinary" took precedent and with his mother's encouragement, he proceeded to earn an Associate's Degree in Culinary Arts and a Bachelor's Degree in Business Administration at Bob Jones University.
In 2013, Diego joined Table 301 Restaurant Group where he's developed his own techniques and culinary style.  His work experience under Chef Teryi Youngblood-Musolf, and later Chef Craig Kuhns at The Lazy Goat, helped shape him into the professional he is today.   His work with Table 301 has also allowed him the opportunity to compete in numerous culinary competitions and cook alongside Michelin starred chefs.
But it was Diego's travels around the world that taught him the nuances and characteristics of different cuisines. "I traveled 4964 kilometers backpacking through South America and another 1780 kilometers around Europe.  It opened my eyes to the pride people feel about their culture and their food," he said.  "I feel a strong responsibility as a Mexican and Latin American cook to teach others about my heritage through my cuisine."
Outside of work, Diego loves to travel and is a history nerd, runner, Mexican culture advocate, and husband. He enjoys watching soccer matches, having good talks over good food and drinks, discovering new restaurants, and spending quiet time in the park or the mountains.