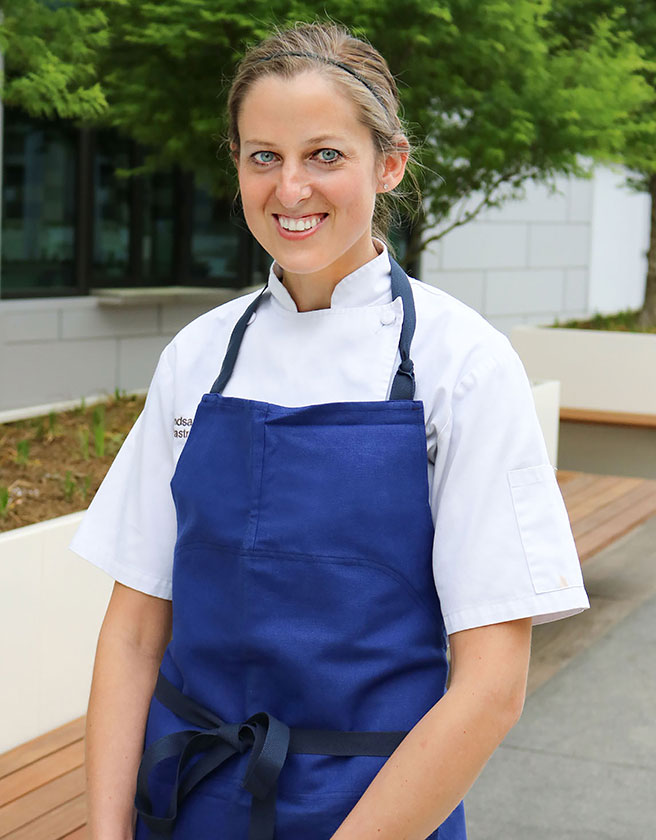 Lindsay Beck
Corporate Pastry Chef Tournant, Table 301
Lindsay Beck says that her obsession with "all things pastry" started when she went to college and studied Food Science at Clemson University. She fell in love with the technique and science of baking and the joy of transforming raw ingredients into something beautiful, unique, and different. Today, Lindsay brings her enviable talents to Table 301 and works at both Nose Dive and CAMP restaurants sharing her "nostalgic and playful" creations for guests' enjoyment.
Born in California and raised outside Chicago, Lindsay's family relocated to Greenville when she was just a teen. Growing up, her two grandmothers instilled a love of the kitchen in her through baking pies and decorating cookies for friends and family. It was during her college years that she landed a pastry chef internship with Soby's Restaurant in downtown Greenville. Once she graduated, she joined the restaurant full-time and later was promoted to Pastry Chef. Over the years, she participated with the Table 301 team at the James Beard House in New York City and also executed the dessert course at the Friends of James Beard dinner in June 2015. Her work has also been featured at several local culinary events including Euphoria, Atlanta Food and Wine, and Highlands Food and Wine Festival.
At one point, Lindsay left Greenville to explore and work with numerous chefs from around the country to hone her techniques. She returned to Table 301 several years ago to handle pastry chef responsibilities for Nose Dive and now Table 301's newest venture, CAMP. She describes her baking style as "nostalgia reinvented" — taking familiar flavor combinations and altering or elevating the components to be reminiscent of the original, but better. Lindsay says, "I love it when guests tell me something I've created reminds them of their childhood. I always strive to make as much as possible from scratch — even sprinkles — I believe that's what sets my creations apart."
When she's not in the restaurants, Lindsay loves to spend time with her boyfriend and two beloved dogs. She is an avid traveler, visiting more than 13 countries and 40 states so far. She appreciates other cultures, their food, and exploring how other people live around the world and hopes to visit at least 20 countries by the time she hits her mid-30s.