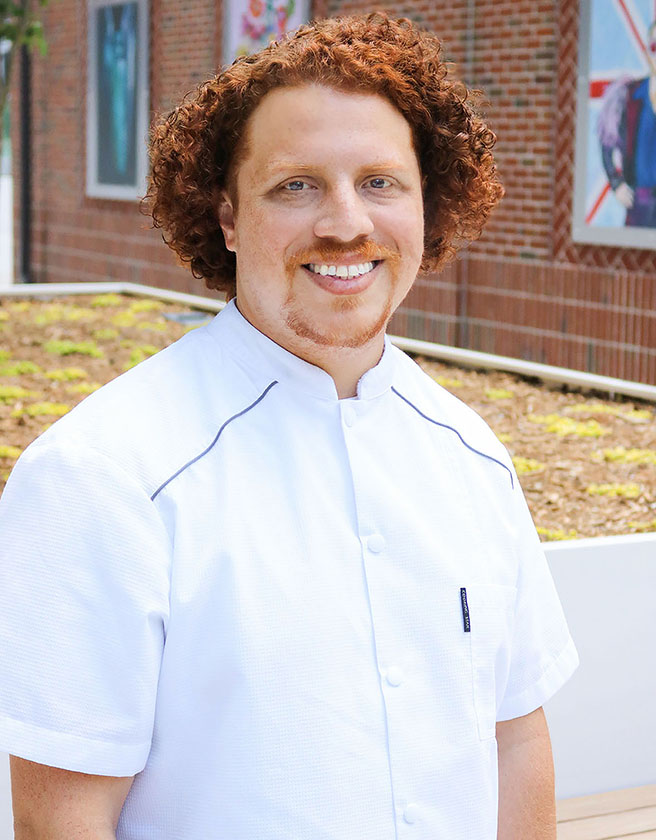 Matthew Ballaro
Sous Chef, CAMP
As a Sous Chef at CAMP, Matthew Ballaro is in the kitchen daily creating new menu items and features, assisting with the ordering process, scheduling and preparing delicious dishes for guests.
Born in Charlotte, NC, Matthew moved to Greenville, SC, at age 15 where he attended Riverside High School. After studying business at Greenville Technical College, he took some time off and headed to Charleston where he became involved in the restaurant business. The restaurant industry wasn't something new to Matthew. His father was a chef, and he grew up spending a lot of time in the kitchen with his dad who gave him his first cookbook at age 6 and liked to ask him, "What part of the world do you want to eat tonight?"
In 2015, Matthew and his future wife made a move back to Greenville where Table 301's The Lazy Goat hired him as a line cook. His passion for cooking intensified and he started to develop his own personal style by researching new trends, recipes and observing other chefs' various culinary techniques. His hard work soon earned him a promotion to Sous Chef. In May 2021, Matthew joined the culinary team at Table 301's newest concept, CAMP, and now enjoys crafting his skills taking traditional dishes, and adding his distinctive twist, much to the delight of CAMP's guests.
Outside of work, Matthew and his wife Katie (also in the restaurant business) like to spend time with their pets, as well as hiking, visiting art galleries and museums, and eating at new restaurants where he is always looking for new inspiration!